Name/Age/Location::mark.16.newmexico
We need atleast 5 pic::
only got 2..sorry.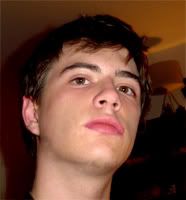 Are you male or female:male.
At least 15 of your favorite bands(no more, no less)::
1xAlone in a Crowdx
2Atari
3Bold
4Bones Brigade
5Chain of Straight
6Deep Wound
7Fastbreak
8Floorpunch
9Gorilla Biscuits
10In My Eyes
11Insted
12Sheer Terror
13Mental
14Negative Approach
15Negative-FX
Lots more..but 15 is limiting.
Favorite 10 favorite movies(again...no more, no less)::
1Hp1
2Hp2
3Hp3
4Trainspotting
5EvilDead
6Deadalive
7Bio-zombie
8Dawnofthedead(origanal)
8redneck zombies
9decline of western civilization
10naked lunch
vegan/vegetarian::no
straight edge::no
If not, what drugs::alcohol.
Dance or stand around::dance. duh.
Do you like fashion::no.
Everyone hates labels, but seriously, what are you?::hardcore. none of that tough guy, or posi bullshit. hardcore.
Do you play an instrument//if so which one:: guitar. but sing in bands.
Why do you think you should be accepted//why are you better than everyone else::i've been listening/going to shows for 6 years now, always supporting the hardcore community.
If you had to live with one cd for the rest of your life, what would it be:: Sheer Terror - BULLDOG ANTHEMS
How do you feel about war:: It's gunna happen either way, might as well cope with it as it comes.
Your stance on Government:: Our government sucks ass (the people themselves). Had we gotten a good cabinet/president we'd be fine.
Abortion::PRO-CHOICE.
Religion::used to keep ignorant people in line.
How do you feel about the scenes these days::lame. no unity. everybody wants to be this or this.
What are you going to do to change it:: trying to keep people friendly with everybody. nobody wants side vs. side in hardcore.
Best show you've been to::Floorpunch, Ten Yard Fight, Bane
Describe your personality a little bit, chances are we don't care...so make us interested in you:: i like music. i like dance dance revolution. and im here to have fun.
Do you wear scarves::no.
Are you able to be arrogant and mean without trying: yes.